Creating careers, not jobs.

​

Our team created our values together! They represent who we are & what kind of people we look for.

We are a dedicated, distributed team of individuals seamlessly working together across the globe and having fun as we go.

The #1 reason that people join–and stay–with us is because of the culture. The fact is, we're nice people doing interesting, challenging work.

This is an environment where you can be yourself, do meaningful work, and be supported by the company.

Working at MarkJames Search is more than a job, it's an opportunity to build a meaningful career. It means a chance to help shape the future of some of the world's best-known brands. To grow personally and professionally.

Exciting challenges lie ahead—new regions, technologies, and businesses. Guided by our four core values, we'll meet these challenges creatively and with the support of our global community. Join us!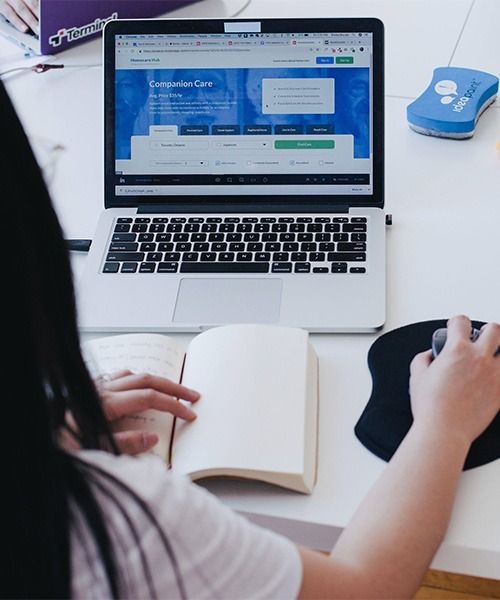 Career Growth

We are a fast-growing company that provides the opportunity for our employees to expand and advance their skills via online learning and career development. We invest in the tools you need to succeed.

Collaborative Vibe

Shared goals and insight into company strategy are part of our DNA. We leverage objectives and key results to ensure that all team members know how to have the most impact.

Remote Working

We promote remote! We trust that you can do your best work in your dressing gown and bunny slippers , on your own schedule and from a variety of locations. We also offer hybrid and office working if you prefer working in-person with your colleagues. Basically, we trust you to do you best work from wherever, whenever.

.

Wellness Days

Our team members enjoy an additional dedicated day off per month when the entire company can take a deep breath and enjoy life.

Well-Being

We mean it when we say we want you to be well financially, physically and mentally. We offer access to mental health services, financial guidance, meditation and career coaching.

Comprehensive Health Benefits

Our Comprehensive Benefits package is constantly improving to best support our team and meet changing needs. It currently includes uncapped commission, quarterly bonus, annual bonus, holiday, pension, team events and more....
Time-Off
​
​
We know that time away is essential to staying inspired. We offer generous time off and leave policies in all our locations.
Diversity, Equality & Inclusion

MarkJames Search is proud to be an equal opportunity workplace with a commitment to the communities in which we work. Diversity is essential to our business and we are committed to creating an inclusive environment for all employees and applicants.

We value the myriad personal and cultural dimensions that make up our team, encourage different opinions and strive to create a sense of belonging for all.

Find a career you love at MarkJames Search
Interviews at MarkJames Search focus on your skill set as much as they do on your career aspirations. Our interviews are designed to be low pressure, informative and inclusive. No trick questions here - and we know that you're interviewing us as much as we're interviewing you. We hope you enjoy your experience and find a career you love.